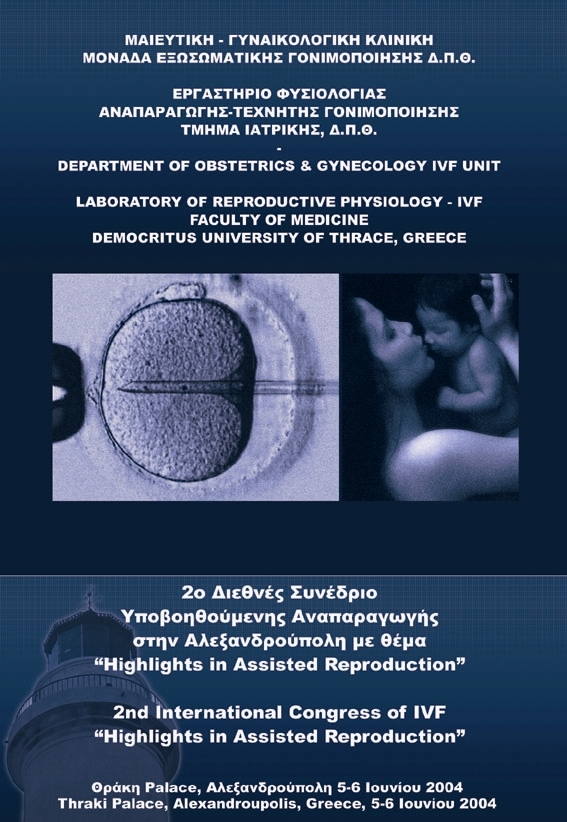 The success of the 1st International Congress "Highlights of Assisted Reproduction" organised by the Laboratory of Reproductive Physiology-IVF of the Democritus University of Thrace in June 2002 has commanded" us to progress on to organising the
2nd International Congress of Assisted Reproduction
which will take place on the 5th and 6th of June 2004 in Alexandroupolis ("Thraki Palace" Hotel).
The 2nd Congress is co-organised by both the Department of Obstetrics and Gynaecology - IVF Unit and the Laboratory of Reproductive Physiology-IVF of the Democritus University of Thrace and is addressed to Gynaecologists, Andrologists, Endocrinologists, Geneticists, Biologists, Embryologists and generally to all scientists who work or plan to engage in the field of Assisted Reproduction.
Worldwide accredited Greek and International speakers will present the new developments in the fields of Infertility, Andrology, Genetics, Assisted Reproduction and Embryology and will also project different and perhaps contrasting views through lectures and round tables.
A special event will be the participation to the congress of Prof. Robert Edwards who, as it is known to all, is a living legend in the scientific field of Assisted Reproduction. Prof. R Edwards on the chance of his participation to the Congress will be announced Honorary Professor of the School of Medicine of the Democritus University of Thrace.
The Congress is dedicated to the memory of Prof. Otmar Bauer who contributed substantially to the establishment of the first centre of in-vitro fertilisation in the Prefecture of East Macedonia and Thrace.
Alexandroupolis, home to the School of Medicine of the Democritus University of Thrace, is located on the South-Eastern end of the European Union and is hoping to constitute a bridge of communication between Europe, Asia and the Balkans. It is a rapidly developing city, which combines many natural beauties with contemporary facilities. The congress will take place in a five star contemporary congress hall situated on the outskirts of the city, beside the coast of the Thracian Sea, adjacent to the Medical School facilities. The vicinity of archaeological sites, museums, natural conservation areas of high interest such as the Evros river delta, the forest of Dadia, and the island of Samothrace as well as the city nightlife will give the participants the chance for brief and enjoyable escapes. We are expecting to see you in this special scientific event.
Alexandroupolis, January 2004
George Maroulis

Professor of Obstetrics and Gynecology
Democritus University of Thrace
Director of IVF unit

Nikos Nikolettos

Associate Professor
of Reprod. Physiology-IVF
Democritus University of Thrace

Even though in-vitro fertilisation is a very effective therapeutic method, several areas are still being researched and are in need of improvement. The aim of this Congress is to present the latest developments on the improvement of ovulation induction and treatment of difficult problems.
The topics of the congress include lectures on:
· Ovulation induction in women over 40 years of age
· Treatment of women with repeated failure of IVF attempts
· Right choice of surgical procedures in order to improve the IVF outcome in case of endometriosis, hydrosalpinx, and male factor
· Methods for selection of oocytes and embryos
· Intrauterine insemination (IUI) and stimulation protocols for Intrauterine insemination cycles
· Use of pre-implantation genetic diagnosis for improving the chances of embryo implantation
· Methods for the use of germ cells

ORGANIZING Committee
Chairman

G.Maroulis

Vice-Chairman

N.K.Nikolettos

G.Secretary

B.Asimakopoulos

Special Secretaries

G.Galazios

V.Limperis

Honorary Chairman

P.Anastasiadis

Members

G.Georgiou

P.Saldazopoulos

A.Ethimiadou

Th. Taravanis

D.Kipouridis

S.Touloupidis

N.Koutlaki

P.Tsikouras

G.Koutsougeras

H.Tsolos

Th.Lialiaris

G.Fakis

D.Mastrogiannis

H.Hatsisavas

R.Boukouvala

G.Himonis

P.Nikolaou

N.Houhos

N.Roukounakis

A.Hrisikopoulos

SCIENTIFIC Committee
Honorary Chairman

ROBERT EDWARDS

Chairman

NIKOS K. NIKOLETTOS

Members

M.ABOULGHAR

G.KREATSAS

SAFAA AL-HASANI

D.LOUTRADIS

PAUL DEVROEY

Th.MANTSAVINOS

KLAUS DIEDRICH

G.MAROULIS

J.G.GRUDZINSKAS

J.MESSINIS

LARS H

AMBERGER

J.BODIS

E.KAPETANAKIS

WILLEM OMBELET

E.KOUMADAKIS

ANTONIO PELLICER

B.TARLATZIS

INTERNATIONAL SPEAKERS INVITED
S. AL-HASANI Professor of Embryology, Head of Assisted Reproduction Laboratory, UNIVERSITATSKLINIKUM
Schleswig -Holstein,
Klinik fur Frauenheilkunde und Geburtshilfe, Germany
M. ABOULGAR Professor of Obstetrics & Gynecology, The Egyptian IVF- ET Center 3, Cairo, Egypt
PAUL DEVROEY Clinical Director, Center for reproductive Medicine, Brussels, Belgium
C. DEMIREL Associate Professor of Obstetrics and Gynaecology, Ankara Universitesi, Ankara, Turkey
K. DIEDRICH Professor of Obstetrics and Gynaecology, UNIVERSITATSKLINIKUM
Schleswig -Holstein,
Klinik fur Frauenheilkunde und Geburtshilfe, Germany
J. G. GRUDZINSKAS Professor of Obstetrics and Gynaecology, Reproductive Physiology Laboratory, London St. Bartholomew's Hospital, London, U.K.
LARS HAMBERGER Department of Obstetrics and Gynaecology, Goteborg University, Sahlgrenska University Hospital, Goteborg, Sweden
WILLEM OMBELET Department of Obstetrics and Gynaecology,
Ziekenhuizen Oost-Limburg, Genk, Belgium
A. PELLICER Professor of Obstetrics and Gynaecology,
Instituto Valenciano de Infertilidad, Valencia University, School of Medicine, Spain
A. RUIZ Embryologist, Director of IVF Laboratory, Instituto Valenciano de Infertilidad, Valencia University, School of Medicine, Spain
M. SIMOPOULOU Embryologist, Royal Free and University College, London
H. TOURNAYE Professor of Obstetrics and Gynaecology, Center for Reproductive Medicine, Dutch-speaking Brussels Free University, Belgium

before 5/5/04
after 5/5/04

Medical Doctors

100 Euro

120

Euro

Trainees

60

Euro

80

Euro

Biologists and research people

60

Euro

80

Euro

Nurses and Midwives

30

Euro

50

Euro
The registration fee includes:
Admission to all sessions

Admission to Welcome Reception

Congress documentation and Abstract Book

Congress Bag

Certificate of Attendance

Coffee - refreshments during official congress breaks

PRESENTATIONS - CALL FOR PAPERS
A limited number of abstracts will be presented as free oral presentations and will be published on the Proceedings of the Congress.
The abstracts must be submitted by e-mail to the secretary's office (emakr@otenet.gr) no later than April 15, 2004 in the abstract submission form which follows.
Each abstract should be accompanied by the authors' registration to the Congress. All those that will be chosen will be presented in the form of Free Oral Presentations. Presentation time will be 8 minutes (including discussion).
For any supplementary information or clarification you may contact the Congress secretary. Tel: 2310-230456/276012 or e-mail: emakr@otenet.gr

GUIDELINES FOR ABSTRACT SUBMISSION
The abstracts presented at the Congress will be published in the Proceedings therefore you are requested to follow the guidelines:
1. The text must be typed within the borders
2. Use Arial-Arial Greek fonts, size 11, black
3. The title must be in capitals
4. The names follow after a line gap with small letters, first NAME (in full) and then SURNAME
5. Underline the name of the author who will present the work
6. The research center and town follow the names.
7. The main text will follow after a line gap and will have the following order:
AIM - MATERIALS & METHOD - RESULTS - CONCLUSIONS

GENERAL INFORMATION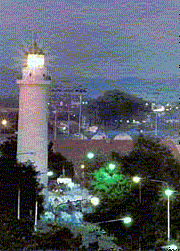 Language
The official languages of the Congress are: English and Greek. Simultaneous translation will be provided.
Access
Alexandroupolis has an Airport which is linked with "Eleftherios Venizelos" Airport (Athens). Kavala (120 km far from Alexandroupolis) and Thessaloniki (300 km far from Alexandroupolis) have also International Airports. There are good rail and road connections between Thessaloniki, Kavala and Alexandroupolis.
Climate
The weather in Alexandroupolis during June is warm, sunny and pleasant. The average temperatures are 22-30oC during the day and 18-22o C during the evening.
Currency
The official currency in Greece is the Euro.
Major credit cards are accepted in hotels, restaurants and shops.
In Alexandroupolis there are many banks and currency exchange offices.
Electricity
220 Volts AC, 50Hz.